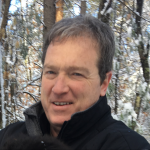 Security and Privacy Consultant
Eugene Tyrrell is a Security and Privacy Consultant at Online. He has been working with the organization for 11 months and is located in New Hampshire. 
What is your main area of expertise?
Data Privacy and PCI Security.
What is your educational background? 
B.A. Psychology, Villanova University; MS Information Assurance, Northeastern University. What certifications do you hold? Certified Information Systems Security Professional (CISSP), PCI Qualified Security Assessor (QSA), Certified Information Privacy Professional (CIPP/US), Certified Information Privacy Technologist (CIPT), Fellow of Information Privacy.
What projects have you most enjoyed working on?
Developing a multi-faceted relationship with a fast-growing, innovative Customer Experience solution provider. We are becoming a trusted advisor currently helping the organization build out a privacy program and PCI security for a new line of business.
What made you want to work at Online?
I was a client for several years and Steve Levinson has been a great friend for over 12 years – so I am familiar the caliber of the people and organization. At this stage in my career I wanted to join a high-performance culture and contribute to the organization in the form of consulting and mentoring. I also see it as an opportunity to work with and learn from some very senior security professionals.
What do you think is the most important element of building excellent client relationships?
Listen and execute. That will lead to trust.
What is your favorite quote?
'A calm sea never produced a skilled mariner.' and 'Actions speak louder than words.'
Squash and Racquetball. Chasing a small ball travelling in excess of 100 MPH around a white room is amazingly therapeutic.