Security intelligence that delivers prevention, protection, and preparedness
Traditional solutions are not enough. We deliver smart security solutions throughout your organization, enabling your team to respond to the latest cyber threats intelligently and effectively.
Risk, Security and Privacy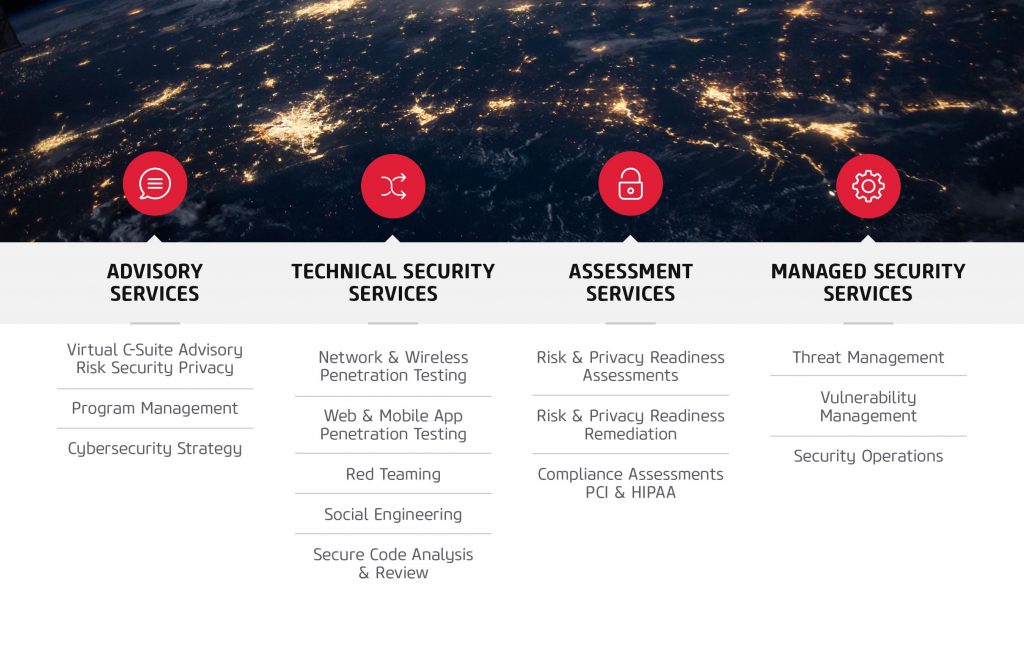 You need insight and visibility into your existing security practices and regulatory compliance needs. By assessing your policies, processes, and procedures, our seasoned security advisory experts will provide recommendations that are aligned to your business objectives, reduce risk, and protect your brand.
To analyze the security vulnerabilities facing your organization, our experienced team uses leading edge tools and techniques to simulate real-world attacks identifying network and system vulnerabilities, evaluating risks, and developing remediation plans that are directly aligned with your business.
Your organization faces an evolving set of security threats from new and rapidly deployed technologies and increasingly more sophisticated attackers. To combat these threats, our assessment experts inspect all areas of your environment to proactively identify where your weakest points are located, in order to implement the most effective risk-based programs and processes.
Today's security realities require you to continually monitor your environments for threats and suspicious activity. Our Managed Security Services program provides you with the assurance that your environment is being monitored while benefiting from the best in technology, expertise, and processes..
"I have worked with Online's security team for a number of years. They helped me successfully complete several PCI assessments and have provided valuable application pen-testing services for our core Internet facing applications. Their deep technical security expertise and pragmatic business minded approach makes them very enjoyable to work with and very effective. I strongly recommend the Online security team to anyone looking for security consulting services."


Paul Farrall – Vice President of Operations, Skytap, Inc.
Online's RSP Health Services
Health Information Security