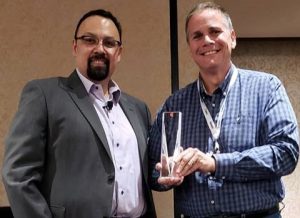 Jon Fraser, Managing Director, Service Management, North America pictured here with Jorge Lopez, BMC's AVP for Channel Ecosystems and Strategic Alliances.
Onliners Peter Lee, Craig Price, and Jon Fraser were on hand at the BMC FY20 Global Sales Kick Off to receive the award.
At Online we take great pride in creating and maintaining relationships with our Clients and our partners.  We are pleased to announce that BMC, a global leader in IT solutions for the digital enterprise, has recognized Online as the North American Digital Service Operations Partner of the Year and Overall North American Partner of the Year in its 2019 BMC Partner Awards.
BMC aids Online in providing our clients with a solid foundation beneath their digital transformation and cybersecurity initiatives.  Online works closely with BMC to ensure our clients have access to industry-leading technology, both configured and supported, to give them confidence in their multi-cloud business initiatives.
"Partnership is at the core of how we work with our Clients and it's equally at the heart of our relationship with BMC. We are committed to bringing the best solutions to the market and are continually impressed by BMC's investment to excellence, to innovation, and to supporting their partners and clients," said Jon Fraser, Managing Director, Service Management at Online Business Systems.
 –Jon Fraser,
Managing Director, Service Management, North America