April 26, 2019 – We are very excited to announce that Online has placed 5th on the 50 "Best Workplaces in Canada" list (100-999 employees)! This is Online's 13th consecutive year on this list and the highest we have ever placed.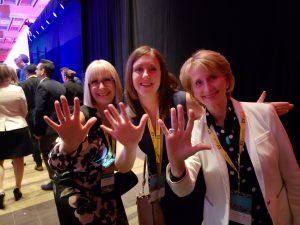 "I can't tell you how proud we were to accept the GPTW award last night on behalf off all Onliners. Online is a great place to work because we have an amazing group of team members who believe in and practice our core values every day. Thanks to our CEO Chuck Loewen and his belief in creating an environment where Onliners feel supported and can thrive. I feel very fortunate to be part of this team. Congrats to all of you." – Ria Neunendorff
Read the special report from The Globe and Mail here!
Online has had the pleasure of being recognized for several other categories over recent years:
2019 Best Workplaces™ for Giving Back
2019 Best Workplaces™ for Inclusion
2018 Best Workplaces™ in Canada – 100-999 employees
2018 Best Workplaces™ in Technology
2017 Best Workplaces™ in Canada – Medium
2017 Best Workplaces™ in Technology
2017 Best Workplaces™ for Learning and Development
2017 Best Workplaces™ for Women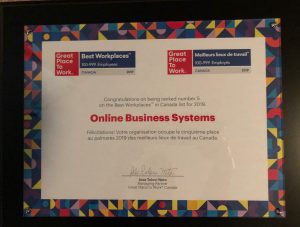 At Online, we have Brand Promises that help us align our priorities and stand out from other consultancies. "Being a Great Place to Work" is not just something we say, it's something we take quite seriously. So much of our lives are spent at work, and if you don't feel valued or enjoy the environment you are in each day; it's possible you won't go that extra mile for your colleagues or Clients. Appreciation is a foundational element of any successful relationship.
Onliners sincerely care about each other, empower each other, and grow together as professionals and people. Since the GPTW awards are made possible only by Onliners who have nominated us, we are inspired by this incredibly positive response from our people, and motivated to keep making our people one of our biggest priorities.
"If you want to go fast, go alone.  If you want to go far; go together." -African Proverb
The 2019 Best Workplaces™ in Canada list is compiled by the Great Place to Work®Institute.  The competition process is based on two criteria: two-thirds of the total score comes from confidential employee survey results and the remaining one-third comes from an in-depth review of the organization's culture. This offers a rigorous representation of the organization from an employee perspective, and an overall portrait of the workplace culture. Together, they provide crucial data relative to five trust-building dimensions: credibility, respect, fairness, pride, and camaraderie.
This year's list received over 400 registrations and over 80,000 employees participated in the 2018 "Best Workplaces™ in Canada" survey, rolling out to impact over 300,000 Canadian employees.
"Every day Onliners set out to make a difference – for Online, for our clients and for each other," said Ria Neuendorff, Online's Chief People Officer. "There's no question – it's our people that truly make Online a Great Place to Work®, and we want to do all we can to help them grow and succeed."
To learn more about working at Online Business Systems view our Careers section or visit our Glassdoor page.
About Great Places to Work®
Great Place to Work® is the global authority on high-trust, high-performance workplace cultures. It is a global research and consulting firm with a mission to build a better society by helping companies transform their workplaces. Great Place to Work® provides the benchmarks, framework, and expertise needed to create, sustain, and recognize outstanding workplace cultures. In Canada, Great Place to Work® produces both industry and demographic specific Best Workplace™ lists. This is part of the world's largest annual workplace study, which culminates in a series of national lists in over 50 countries, including the study's flagship list of 100 Best Companies published annually in Fortune magazine. Globally, this survey represents the voices of 11 million employees, which are the primary determinant used in selecting winners. There's only one way to get on this list – your employees have to put you on it.  Check out www.greatplacetowork.ca 
Follow Great Place to Work® on Facebook , Linkedin and Twitter use #GPTWAwards #BestWorkplaces